Do Rats Eat Pigeons?- Revealing the Facts
Rats are frequently thought of as waste pickers who feed on injured or dead animals, especially birds. But what's the real deal when it comes to alive or even dead birds like pigeons?
Do rats eat pigeons? Yes, rats being scavengers, will eat various food, including pigeons. However, it's not a common occurrence. Rats generally prefer small and easy meals, such as chicks and eggs. Also, the food preferences of rats are influenced by their particular habitat.
We'll delve into the facts and dispel the myth of the rat-pigeon feast once and for all. From their typical food sources to the reasons why and when they may attack pigeons, we've got all the information you need.
Under Which Circumstances Do Rats Eat Pigeons?
It's not uncommon for rats to eat a wide variety of foods, including both plants and animals. So, while it's possible that rats may eat pigeons, it's not common. 
The scarcity of food sources mostly leads the rats to go wild. Even worse is that with fewer choices, rats resort to cannibalism, which leads to eating their own babies too.
Here's what an urban rodentologist Bobby Corrigan said, "A new 'army' of rats come in, and whichever army has the strongest rats is going to conquer that area." Though it's the scenario during the pandemic, scarcity of food is the major reason that can turn a rat into cannibalism.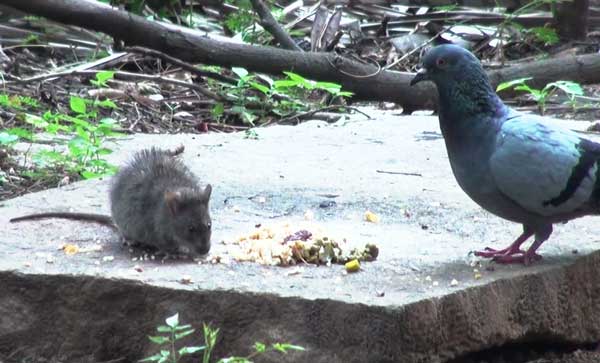 Bobby Corrigan also states that rats don't have much patience for hunger. In the absence of food, the most robust rats will resort to predation on their weaker counterparts. They do it as an alternative food source rather than relying on the food provided by restaurants. 
Furthermore, they may venture into unfamiliar territories, such as neighboring blocks or regions, in their quest for food.
Is There Any Evidence of Rats Eating Pigeons?
The question of whether or not rats eat pigeons has been raised due to several reported incidents. Despite a lack of scientific evidence, some incidents have led people to wonder if rats can eat pigeons.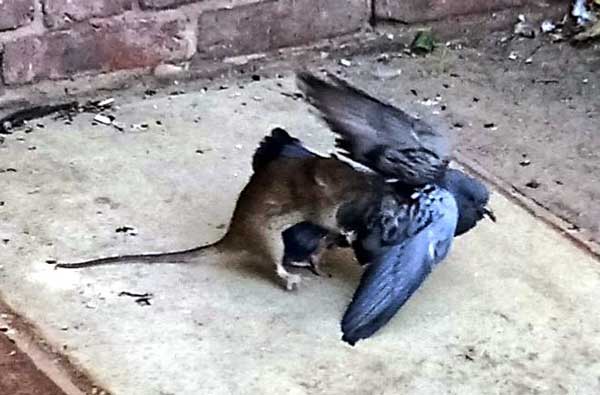 In one such case, a rat was seen on video assaulting a bird in New York City. This incident was caught on camera and then posted online by the New York Post. This brought attention to the possibility that rats may prey on pigeons.
Another incident, also in New York City, involved a rat grabbing the neck of a pigeon and attempting to eat it. The Daily Mail's coverage of this occurrence adds to the continuing debates concerning the likelihood of rats eating pigeons.
A BPCA Servicing Member named Gary Howard, who works in the Monitor Pest Control in Kent, encountered an unexpected photograph that sparked curiosity about rat behavior. 
He commented that it's intriguing and atypical to witness a rat climbing a tree and capture two robins during a single session since small birds in their natural habitat are typically too quick to catch.
What Do Rats Typically Eat?
The diet of rats can vary greatly depending on their location and habitat. A few examples of different habitats are given below.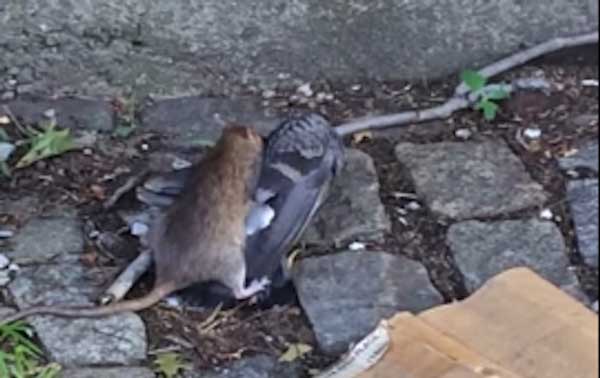 Brown Rats
These rats, which go by the name of Norway rats, eat a range of foods, such as birds, crabs, carrion, and rabbits. 
Roof rats
Also, sometimes known as house or ship rats, eat food similar to that of brown rats. 
Wild Habitat
In the wild, rats tend to have a more plant-based diet, consuming fruits, grains, plants, seeds, and vegetables. 
Urban Living
Rats living in urban areas or houses have access to a wide range of human food. So, their main food preferences here are unsecured garbage, fruit trees, open dry grains, and pet droppings.
Misconceptions About Rats and Pigeons
The relationship between rats and pigeons is often misunderstood. Rats, like other animals, have specific food preferences and aren't indiscriminate eaters. 
They're known to attack live prey in captive situations such as bird aviaries and chicken coops. But these attacks are not typically seen in the wild. 
Pigeons, however, are known for their slow movement and tendency to congregate in large groups. It makes them an easy target for rats looking for a meal. 
It's important to recognize that urban areas, with their abundance of human food, often attract both pigeons and rats. Pigeons are drawn to these regions because they have easy access to food, while rats are drawn to the abundance of pigeons and their prospective food sources.
If you're interested in learning more about pigeon behavior and biology, you might find our articles on why do pigeons fly in circles and why do pigeons poop so much helpful. Our article on
why do pigeons fly in circles
explores the reasons behind this peculiar behavior, while our article on
why do pigeons poop so much
sheds light on the physiology behind pigeon excretion. Check them out to deepen your understanding of pigeon behavior and biology.
FAQs
Now we'll address several prevalent inquiries that may have persisted in your mind concerning rats and pigeons.
1. Are pigeons a preferred food source for rats?
Pigeons are not a preferred food source for rats. They'll eat pigeons if they're readily available, but they prefer other food sources such as garbage and fruits.
2. Do rats have a preference for certain types of food?
Rats have a preference for certain types of food. Rats prefer foods high in protein, sugar, and fat, such as seeds, nuts, bread, cereal, meats, and veggies. 
Conclusion
We understand that "do rats eat pigeons?" is a question that has been brought up due to various reported incidents. You should remember that rats are opportunistic feeders and will eat various things depending on what is available to them. 
That being said, rats eating pigeons is not a typical or regular behavior. And, of course, scarcity of foods led to the incidents we discussed earlier. 
It's a must to keep in mind that the urban ecosystem is complex, and it's important to understand the behavior of all its inhabitants.